Five Kitchen Trends to Enhance Your Next Remodel
Confident statements and a focus on functionality are the name the game for many kitchen remodels in 2020. A number of the trends that are showing up in other areas of the home, such as bold shades of blue, sustainable materials and smart technology, have made their way into the room where we cook and entertain, catching eyes and making everyday tasks easier. In addition, kitchen-specific trends are giving homeowners new ways to express their style and enjoy their time preparing meals and welcoming guests.
When worked into your next renovation project with the expertise of an experienced design-build team, the following five trends can become more than just fads. Incorporated seamlessly in your new kitchen, they'll not only give your room a new look, but will make it a place you'll want to be—both now and for many years to come.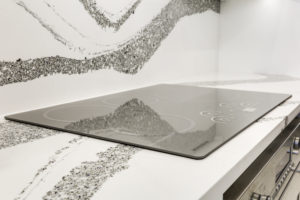 1. Bold Backsplashes 
Statement-making backsplashes are becoming the focal points of many modern kitchens. From the always elegant look of marble to boldly colored and even textured tile, a wide range of eye-catching looks are taking starring roles. And, some backsplashes are grabbing attention not only for their striking patterns and colors, but for their size as well. Increasingly, they're stretching to the ceiling or spanning the width of an entire wall.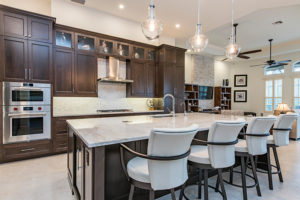 2. Dark Cabinets
While white cabinets are still a popular pick, a growing number of homeowners are choosing deeper shades to make their cabinetry stand out. Deep blues, greens and grays are giving kitchens a dramatic look, and black is making a comeback for its elegance and ability to contrast and complement a variety of surfaces.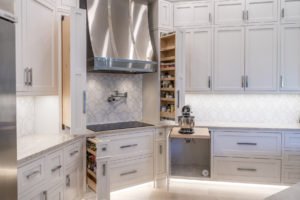 3. User-Friendly Storage
Two complementary trends are making kitchen storage more practical while offering opportunities for homeowners to add pops of personality. Open shelving has been growing in popularity as it allows commonly-used dishes to be kept easily accessible as well as provides spaces to showcase decorative pieces. For the items you'd rather hide from view, deep cabinet drawers are replacing more traditional cabinets, keeping even items in the back within easy reach. Optional dividers make organization a breeze and allow homeowners to tailor their storage to meet their needs.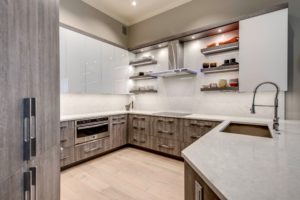 4. Warm Metallic Fixtures
Touches of gold and brass are accenting kitchens with both vintage sensibility and modern class. Faucets, pendant lamps, drawer pulls and even bar stools and shelves are getting the warm metallic treatment, giving a new glow that welcomes family and guests alike. These updated metals can both harmonize with natural wood and provide contrasting accents to bold colors, making them fitting partners for everything from walnut to marble.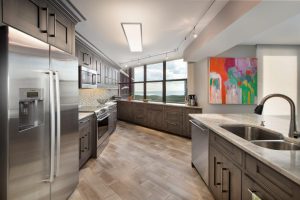 5. A Natural Touch
As sustainability becomes a growing priority in many renovations, touches that showcase the splendor of nature are also making their mark in modern kitchens. Natural wood finishes add beauty to cabinets and floors alike, and colors like calming blues and greens call to mind the revitalizing powers of the sea and sky. In addition, designs that allow natural light to flood your dining and cooking area bring a bit of the outdoors into your daily routine.
Whether you want to incorporate just a hint of a trend or fully embrace several, KGT Builders can bring your vision to life! We'll listen to your preferences and priorities to create a design that incorporates the latest features in ways that fit the way you live, play and entertain. Contact us to get started! (And, if you're planning on giving your bathroom a facelift as well, be sure to check out these top bathroom trends!)