Five Kitchen Storage Solutions With Big Everyday Benefits
Few places benefit from organization as much as a kitchen. The ability to find the right ingredients and tools when you need them can be the factor that determines whether cooking is a chore or a pleasure.
A wide array of kitchen storage features can save you time, energy and frustration, as well as add a sense of order to everyday life. While they're a small part of a remodeling project, it's touches like these that pay off in spades in enjoyment and ease. When included in your next kitchen renovation, organization solutions such as the five below bring daily benefits that you'll enjoy for years to come.
1. Pull-Out Pantry Storage
Having "a place for everything and everything in its place" can be especially transformative in a pantry, allowing you to readily grab what you need and see what needs to be restocked. A pull-out storage solution not only corrals the ingredients and tools you use most often for easy access, but makes the most of every inch of your cabinet storage space.
2. Built-In Spice Racks
If you frequently reach for oregano or cumin when you're in the kitchen, a pull-out spice rack or one mounted behind a cabinet door can help you keep your collection of herbs and spices ready to go and easy to find when you need them. This close cousin of a pull-out pantry organizer ensures that the seasonings you reach for time and again stay organized and keeps them fresher longer by shielding them from light.
3. Roll-Out Trash Containers
Having a garbage can readily at hand makes a host of kitchen tasks easier. Having it hidden from view provides the same ease while preventing your trash from subtracting from the beauty and flow of your renovated room. A hidden collection space for your waste can also help you go green by making recycling a breeze. This out-of-sight but not out-of-mind solution makes sorting a cinch to incorporate into your daily routine.
4. Corner Storage Solutions
Corner space can easily become wasted space. It's often hard to access, making it an impractical place to store items you use on a regular basis. But with the right storage solution, it can become a valuable space to stow pots and pans, kitchen gadgets and more. A Lazy Susan can maximize your corner cabinet real estate as a spot for frequently used items, while pull-out and swing-out blind corner organizers allow you to easily keep small kitchen appliances tucked away but easy to reach.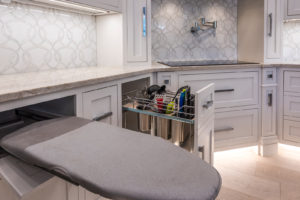 5. Pull-Out Cabinet Organizers
Like corner space, the backs of both upper and lower cabinets can be difficult to see, making them vulnerable to becoming black holes rather than useful storage spaces. However, a variety of pull-out storage racks (for lower cabinets) and pull-down units (for upper shelves) turn these awkward spots into organized hubs, putting what you need directly in your line of sight.
Choosing the organizational features that will work well for you among the countless options that are available (check out the Cabinet Parts website for a taste!) requires considering not only your storage needs but the overall flow and form of your kitchen. Our design-build team is eager to help you find the perfect solutions for your lifestyle and integrate them seamlessly into your renovation project.
At KGT Builders, we're committed to providing you with a renovated kitchen that's not only beautiful but functional. Our design professionals are experts in making your cooking space function effortlessly, both for your everyday cooking habits and for the ways you like to entertain for occasions big and small. We'll draw from our decades of experience to craft a storage system that makes organization a breeze and cooking a joy. Contact us today to bring your kitchen organization dreams to life!