Four Things to Consider When Selecting a Kitchen Sink
Few aspects of a kitchen remodel make as much of a difference in functionality as your kitchen sink. Even on days when you chose not to cook, chances are, you still turn on the faucet to do dishes, rinse an apple or fill a glass. The choices you make about your sink can improve the beauty and efficiency of your kitchen for years to come and, thanks to the vast selection of options available, you can find one that's a great fit for the way you cook and live. Below are four things to consider.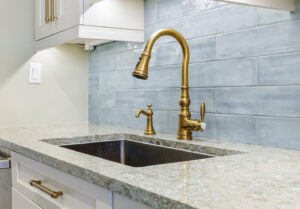 1. Choose a Style
Your sink's style is probably the feature you'll notice first, and it's one of the most crucial aspects to consider as you think about how it will work with the rest of your reimagined kitchen. The following three basic categories can help you narrow down your options.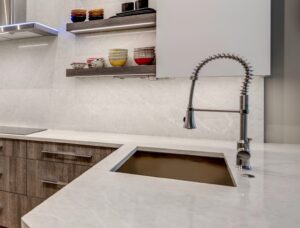 Undermount sinks, as the name suggests, are installed below the surrounding countertop, hiding the edge of the sink from view. They eliminate the need for an above-counter seal, creating a smooth transition from counter to sink and making it easy to push kitchen messes into the basin. They're excellent options for those seeking a sleek look, though it's important that they're paired with a waterproof countertop material.
Drop-in sinks are installed in a hole in the countertop with the lip of the sink resting on top of the counter. They're a relatively budget-friendly option, though they're not as easy to clean and don't provide the smooth style of undermount models.
Apron-front sinks, also known as farmhouse sinks, provide a distinctive look to your kitchen thanks to their exposed fronts and typically large size. They're a trendy option with timeless appeal and a dose of practicality: Thanks to their sizeable width and depth, they easily accommodate large pots and pans.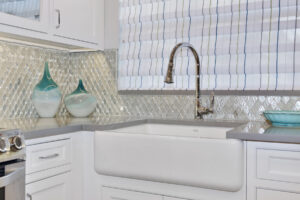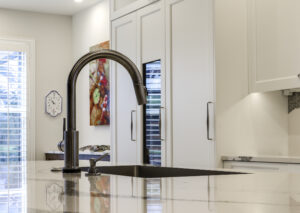 2. Make the Material Work for You
Today's sinks come in an array of materials, each of which provides unique benefits. So, as you consider what you'd like your sink to be made of, keep in mind which perks are most important to you.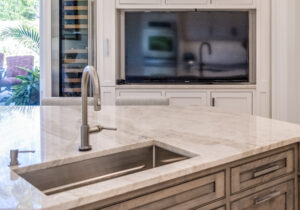 Stainless Steel: The most popular kitchen sink material, stainless steel is affordable, resistant to corrosion and easy to maintain.

 

Enamel: Available in an array of colors and easy to clean, enamel sinks are typically made from coated cast iron. These time-honored options can be prone to chipping over time, however, making them best suited for light to moderate use.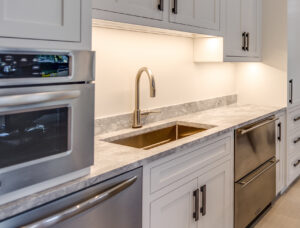 Copper: With a warm, distinctive glow, copper sinks can serve as a focal point of a kitchen remodel. While they're relatively pricey, their beauty and ability to resist bacteria make them an attractive option for many homeowners.
Fireclay: As the name suggests, fireclay sinks are made of a blend of glaze and clay molded at an extremely high temperature. Though they sometimes resemble enamel sinks, they're more durable and have longer lifespans.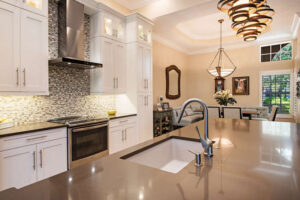 Stone: Stone sinks, for example those crafted from granite or marble, give a truly unique touch to a kitchen remodel thanks to the variations found in these natural materials. Though they're among the most expensive options, their long lifespan and lasting beauty make them investments in your home.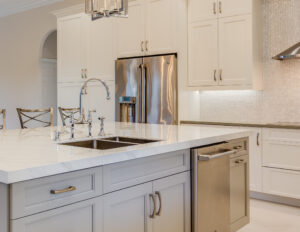 3. Select a Size
When choosing the model that's right for you, consider not only the horizontal dimensions of the sink, but the depth as well. Before sink shopping, know the size of your largest, deepest cookware so you can ensure that it will fit comfortably under the faucet for easy filling and cleaning.
In addition, consider how you may want your sink to be divided into multiple basins. Double basins are popular as they provide one side for scrubbing and another for rinsing; but if you rarely do dishes by hand, a single basin might be a better fit. Or, if you often find yourself needing to rinse produce or drain pasta when the sink is already full, a model with a third basin might serve you well.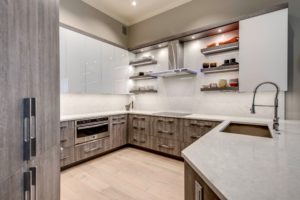 4. Find Your Perfect Faucet
Today's faucets come with an array of features that can complement any style while making common kitchen tasks a breeze. Think about the tasks you complete most often as you as you look at this important element of any sink, and choose a model that makes those things easier. For instance, detachable hose-type faucets can make rinsing vegetables a breeze, and tall gooseneck styles provide extra space to fill your tallest stockpot. In addition, don't forget to consider if you want the finish to blend in or stand out. 
Are you ready to give your kitchen a facelift? Our team at KGT Builders is ready to bring your vision to life! Contact us today to get starting in dreaming, designing and building your perfect cooking space, with a sink that's just right for you.