New Year, New Look, Better You: Three Remodels That Complement Resolutions
As the calendar turns over to a new year, our thoughts often turn to new starts, from resolutions to eat healthier or hit the gym to renewed commitments to stick to a budget or get organized. But January is also an ideal time to start the process of giving your home a fresh look. 
Ringing in a new chapter for your kitchen, bathroom or outdoor living space as you welcome 2020 could not only make your living space a more enjoyable place to be; it could also give you an edge in keeping some common resolutions. A remodel can help you eat better, reduce stress and spend more time with loved ones, all while adding beauty and enhancing functionality.
An Updated Kitchen: Healthier Eating
Having a kitchen that you love can be a major motivating factor in spending more time cooking nutritious meals, making a renovation to your cooking space a boon to a resolution to adopt healthier eating habits. In a study conducted by Houzz, over three-quarters of respondents prepared five or more meals at home each week following a kitchen remodel. A third said they ordered less takeout and over a quarter ate more fruits and vegetables—all as a result of giving their cooking space a refresh!
A lighter, brighter kitchen with updated appliances and organization features can make meal preparation a joy. And, when cooking is more fun, ordering in is less enticing.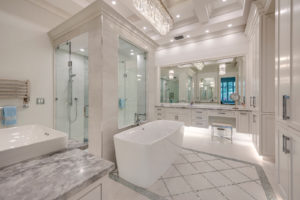 A More Comfortable Bathroom: Lower Stress
Getting a handle on stress is a growing concern for many of us, and having a place to unwind is an important aspect of making stress relief a priority. And, few rooms have the relaxation potential of a bathroom designed to be a sanctuary from the cares of the day.
Strategic updates can turn a bathroom from merely a place to get ready into a refuge where worries melt away. For example, adding a jetted tub or rain shower will make it easier to make self-care a part of your day, and the time you spend there can pay off in a greater sense of calm.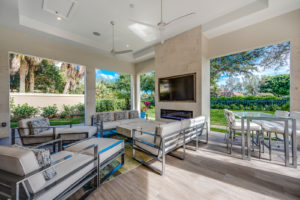 A New Outdoor Living Space: More Quality Time With Loved Ones
As the pace of life continues to ramp up, slowing down to be with family and friends is becoming an increasingly popular resolution. A thoughtful renovation can help you hit pause on the busyness and build memories.
Lanais and patios naturally lend themselves to time spent with the people you care about most. Adding an outdoor living space or giving your existing space a fresh look can make gathering with your family or welcoming guests more enjoyable and effortless. And, features like outdoor kitchens and fireplaces will encourage you to linger with loved ones.
No matter what you're resolving for your home in the new year, be sure to work with a company that will truly partner with you to bring your goals and dreams to life. Our team of professionals at KGT is committed to excellence at every stage of the renovation process, and our design-build approach will give you a seamless experience from start to finish. Contact us today to get started on a new look for 2020!